I don't know about you but here in Bristol we had another sunny weekend.
On the Saturday I wasn't feeling well, barely able to move so I had to spend the day indoors. Thankfully by Sunday I was feeling better so we were able to make the most of the beautiful sunshine and once again head out to our local park.
St Andrew's park has fast become a favourite place to escape to, particularly in the nice weather and Sunday didn't disappoint.  The park was packed with lots of families enjoying the warm weather and taking advantage the cool water in the paddling pool.  We have been pretty busy and so Sunday was the first time that Harry got to experience the paddling pool.  As always, it was the first place he ran to but unlike previous occasions we were able to promise he could go in for a paddle, just as soon as he had got changed.
Whilst these aren't the best pictures I have taken of Harry, they are the only usable ones of him in the paddling as, for the most part, it was packed.  The above were shot rather haphazardly in the odd few seconds that no other child was around him!
As is typical Harry behaviour, we could not get him to sit down to eat his picnic with us.  He would take a bite, then run off for a paddle then come back for another bite and so on.  This continued for most of the afternoon before Harry suddenly decided he needed wanted to go into the playground, rather coincidently when we had said that it was nearly time to go home.  Still, we were having such fun that we decided to let Harry have a play until he got fed up.
One of my favourite things about being a parent is just watching Harry have fun, watching him carefully consider each challenge.  As he is getting older, he needs a lot less help with various equipment and challenges (not that he has ever been particularly accepting of help) which means both the husband and I have been able to take a step back and just be absorbed in watching his sheer delight.   And that is just magical.
I am linking up to Jaime from The Oliver's Madhouse Magic Moments linky for the first time because Sunday really was just a magical afternoon for me.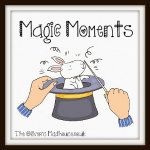 I am also linking up to Fiona's Country Kids linky as so often I forget to take pictures of our fun and I keep promising to join in again!